Cead Mile Failte – A Hundred Thousand Welcomes!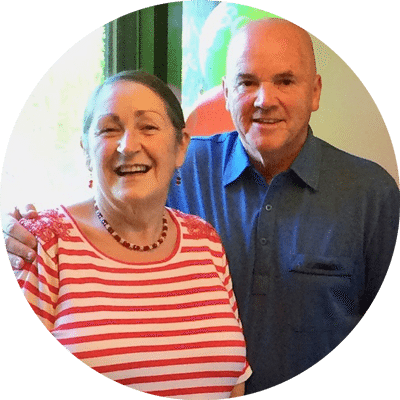 A warm welcome awaits you at Michaeleen's Manor Bed and Breakfast, a B&B one mile from Cong on the borders of counties Mayo and Galway, which is themed on The Quiet Man movie. We are Gerry & Margaret Collins and we've welcomed guests from all over the world, including John Wayne's daughter – Marissa Wayne, who kindly complimented our "warm Irish hospitality, great Irish breakfasts, comfortable beds and wonderful hot showers!"
At Michaeleen's Manor, The Quiet Man B&B, you can expect to be entertained over breakfast with tales from my time as The Quiet Man Tour Guide, while Margaret, who was a chef in Ashford Castle during President Regan's stay in 1984, cooks you up a delicious breakfast! With character named bedrooms and one of the world's largest collections of Quiet Man memorabilia – with Quiet Man photos, posters, paintings and stained glass, Michaeleen's Manor B&B is the place to stay for Quiet Man fans.
We offer single, double triple and quadruple rooms all en suite with cooked breakfast included in the nightly rate, free wifi, free parking, tea and coffee making facilities, TV/DVD, towels and toiletries.
Michaeleen's Manor B&B is an Irish Tourist Board approved Bed and Breakfast, and we were proud to receive the Tourist Board's Customer Service Excellence Award in 2019, and the Covid Safety Charter in 2020.
Michaeleen's Manor B&B is located in an area of outstanding beauty – 1 mile from the beautiful village of Cong in Connemara. Cong was the only village that featured on TripAdvisor's top 10 Irish destinations in 2018 and 2019. The village is an inland island surrounded by water, with quaint shops and cafes and historical ruins dating back as far the 12th Century.
Michaeleen's Manor Bed and Breakfast is ideally located for Quiet Man fans just 1 mile from The Quiet Man Museum in Cong, where tours of the Quiet Man film locations depart daily. It is also the closest Bed and Breakfast to The Lodge at Ashford Castle, which is 5 minutes walk away. The B&B is also just 5 minutes walk from Ireland's finest brown trout and salmon fishing on Lough Corrib and 10 minutes walk from the world famous Ashford Castle. Hawk walks are a real treat at Ireland's School of Falconry at Ashford Castle and Cruises on Lough Corrib depart from Lisloughrey Quay 5 minutes walk from the B&B.
There is an abundance of outdoor activities on the B&B's doorstep - from kayaking, horse riding, cycling and walking trails through the 2,000 acres of woodlands that surround Cong to more adventurous mountain climbs in Connemara including the Maamturks, the Twelve Bens, and Croagh Patrick – the Holy Mountain of Ireland's Patron Saint.
While it is easy to spend a week or more enjoying the many things to do and see in Cong (see our Things to do page), Michaeleen's Manor B&B is very centrally located on the borders of counties Mayo and Galway, only 20 miles from the Wild Atlantic Way at Killary Harbour and 26 miles from Galway city and Westport – an ideal base from which to explore the west of Ireland, including the Aran Islands, Achill Island and the Marian Shrine at Knock. With the wonderful new motorway Cong is now only 2 and a half hours drive from Dublin.
Book Directly on our website for the very best prices.
Bookings are subject to adherence to Irish Covid-19 restrictions and guidelines.
We had a lovely stay at michaeleens we had 3 rooms booked! Margaret gave us a warm welcome at the B&B when we arrived also told us everything we needed to know! When we went down for breakfast Gerry couldn't do enough for us & Margaret made the breakfast we had a few fussy eaters, she made them just the way we wanted!
Lynda W
Loved the proprietors, had great chit chats about the movie and his experiences with the actors and other affiliated people. Rooms were clean, spacious, and beautiful. Breakfast was wonderful! They provide maps at check in and great info about the area
Zechel
Booked 2 rooms in this hotel.. Spotlessly clean with great beds for a good night's sleep.. Margaret and Gerry were warm hosts and served up a cracking breakfast before we left.. Will certainly return.. 5/5..
Mike F
Thank you for your wonderful hospitality in Michaeleen's Manor. We had a great time, you have a lovely homely place there and we felt so much at home. Gerry was a breath of fresh air in the mornings, always in great humour and such lovely breakfast every morning and served with a smile. We home to come back next year. I would stay nowhere else. Our time in Cong was so special.
Linda, Barney, & Darren O'Hare (Co. Down)
Gerry and Margaret were lovely. Very friendly and welcoming. Irish breakfast was great. Set in a beautiful location.
Amanda, UK
Lovely hosts with a lovely home. Excellent location in beautiful Cong. Delicious breakfasts. We would certainly stay again.
Rebecca, USA
Jerry & Margaret were extremely friendly and helpful. Rooms bright, clean and comfortable. We enjoyed our stay very much!
Randy, USA
Thanks for being such wonderful hosts (again). We have loved our visit.
The McLaughlin Family, Co Donegal
Thank you for all your kindness and wonderful hospitality. We felt so at home and so welcome with you. Also, our visit to the museum!! We laughed so much and it brought the 'Quiet Man' to life for us all. In fact we watched the film the next day and enjoyed it in a new way. You're very wonderful people and we look forward to being with you again in the not too distant future. We'll be telling our friends where to stay in Cong!
Dana, Damien & family, Galway
What a glorious time we had in Cong. The beauty of your town and country will not be forgotten. We truly enjoyed the B&B. Since our return, we have found that so many have seen the movie and the enthusiasm they have when we mention that we've been to the cottage, "tossed" on the bed and stayed in Michaeleen's Manor. We certainly have enjoyed sharing our experience.
Brian & Mary, Minnesota, USA
Thank you so much for your hospitality and friendliness. We have enjoyed our stay with you at Michaeleen's Manor very, very much. We wish you the very best of everything and even greater and continued success in your promotion of The Quiet Man – the greatest movie ever made.
The McLaughlins, Co Donegal
Once again thanks for a wonderful week at the B&B and for your help with finding places to see. You were so kind and Gerry we love your kind of humour. We tell everyone that our trip to Western Ireland is one of the best things we have done to ourselves. We really hope to be able to go again.
Henrick and Inge, The Netherlands
The Quiet Man Museum is an exact replica of the exterior of White O'Morn, the ancestral cottage bought by Sean Thornton on his return to Ireland, as the original White O'Morn cottage is unfortunately now in ruin. The Musuem is also an exact replica of the White O'Morn interior, which was a Hollywood set. The Quiet Man Museum represents the first time the exterior and the interior of White O'Morn have been created in one place.
Read more
Michaeleen's Manor is the nearest B&B to the Lodge at Ashford Castle on the Quay Rd (the main road to Lough Corrib in Cong).